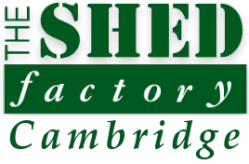 17 Cheddars Lane
Cambridge
CB5 8LD
01223 359540
2.2m x 1.5m Unique Storage Shed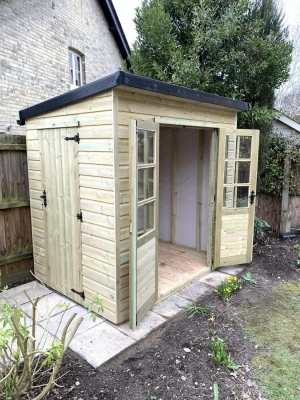 Here we have a bespoke shed design made for a small garden to the customers exact requirements. The client had a design but was very limited to a size of 2.2m x 1.5m. It needed to be pleasing to the eye even though it's use was mainly for storage. As they only had a compact garden they wanted a summer house design with the Georgian style doors and windows as it was to face directly onto their house patio doors so woudl be seen when looking out into their small garden. The side door access positioning was also important to them as they use their side gate a lot and didn't want to go around the front of the shed with their bicycle.
The shed construction was also to an up-graded specification whis is unusual for a shed of this size. To the customer's request we made the frame-work using ex 75mm x 125mm with breathable lining paper, ex19mm x 125mm tanalised pressure treated ship-lap boards all finished off with a light green finish, Black ornate ironmongery with locks and keys were installed and all glass is toughed. An EPDM rubber roof was used which is becoming very popular with customers who have a Pent style shed as it has a long life expectancy of 25 years or more. Finally black guttering was added with a down pipe to control the water runoff and help prevent damp.
With the occasional re-treatment every few years, this little summer house style building is built to last and will be here for many years to come with very little maintenance.
Click to enlarge....